Art on Wheels 2012
Home
Calendar
Artists
the Van

Amina McConvell
Type: Painting

This is essentially a work of geometric abstraction that is viewed as a large-scale drawing. The formal aesthetic qualities of this drawing are considered and arranged in terms of the artist's intuitive sense of rhythm and dynamics. McConvell uses a reductive framework as the basis for improvisation, black and white geometric forms only. It is her need for constant invention that has led to research in improvisation, variation and arrangement in music. Through reduction the work finds a playful lyricism and inventiveness of form as arranging the same forms again and again in different ways makes for surprising compositions and variations.
Passages of Time and Space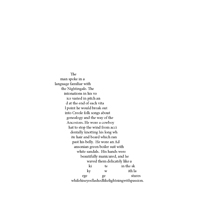 Ann Fuata
Type: Interactive Performance

The real-time physical application of intimacy between people, self and their relationship with the natural world, has been compacted into a single mouseclick away. One form of intimacy in this new media culture varies from short hand sms of affection from the beloved, online relationships between humans and virtual characters through avatar programmes such as Second Life to using proto-type limbs such as the Kissenger, a robotic program designed to transfer virtual kisses between two individuals.

What then does it mean to hold and to be held in the current context?

The artist invites you to recall one occassion where someone physically held you, either by writing, drawing about your experience or having a
conversation with the artist over a cup of tea.
Parietal Fables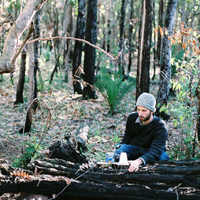 Dale Gorfinkel
Type: Performance, sound, kinetic sculpture

Out Hear seeks to encourage a culture of outdoor sound explorations and performances in urban locations, bush settings, and unusual spaces. Through the activity of walking and listening, participants may discover a refreshing perspective on their surroundings. These intimate performances will feature Dale playing his radically modified trumpet - with extra tubes, spinning bits, balloons and showerheads.

It is work that inspires a sense of playfulness, curiosity and
connection to local places.
Out Hear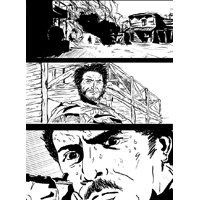 Jonathon Saunders
Type: Stencil painting

Jonathon Saunders presents a dispersed superhero narrative through gaudy stencil art. The iconic look of comic book colouring techniques from the'80s are recreated using stencils and bold, gaudy colours. Tight framing and close ups help to show a voyeuristic look at these heroes and the world they inhabit.

The disparate structure and the open-endedness of the disjunctive narrative is meant to stimulate apprehension and arouse curiosity but leave the outcome and meaning of the story
open to the viewer.
Revenge of Yojimbo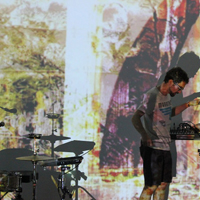 Leanne Waterhouse & Green Stone Garden
Type: Live music & Projection

Suburbascope is a collaboration of music and visual art by four piece band Green Stone Garden and digital media artist Leanne Waterhouse.
Suburbascope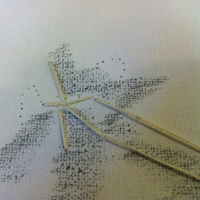 Leanne Waterhouse
Type: Workshop

Journey:
a travelling from one place to another;
a passage or progress from one stage to another.

A creative art making workshop that explores the notion of travel and the meaning of a journey. Receiving instructions from Waterhouse, participants are invited to recreate a personal journey - it may be a physical, spiritual or mental journey.
Journey

Lisa Wolfgramm
Type: Painting

Working in layers of different coloured stripes Wolfgramm applies an effect known as a moire pattern onto the van. The pattern changes when viewed from different distances and angles affecting the colours which merge to create another colour at a distance and separate again at close proximity. This shifting of colour and pattern generates curiosity from the passing public and makes them intrigued by the experience.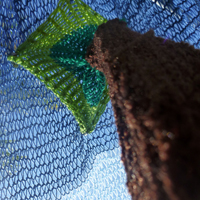 Rebecca Arbon
Type: Soft Sculpture

Inside Out transforms the interior of a van into a playful, interactive knitted environment.
Inside Out
Painting # Van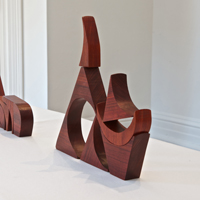 Rosemary Joy
Performance with James Teh
Type: Interactive performance, sound

Blocking maps out a performance in miniature with sculptures as performers. The work is performed by one percussionist for a limited audience at a time. As the work is performed, a sculpture is constructed.

Joy is intrigued by the possibilities and implications of animating sculpture to create subtle sound in performance. The work is about intimacy, private experiences and the way that context affects the perception of sound.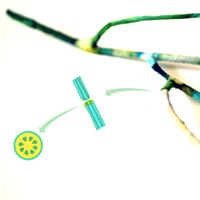 Sarah Pirrie
Type: workshop, blog

To divide into two or to 'branch out' invites a creative journey synonymous with learning processes. Participants of Branching will be asked to learn the art of branch making and then pass this technique on to two others and so on.

Along this journey what remains of the 'original branch technique' is dependent on a need to maintain accuracy over the desire to innovate. Through this process of exchange, sharing and passing on, a creative community will be developed creating a cladogram of many branches - linking people and place into a tree of interconnectivity.

Blog: http://branchingart.blogspot.com.au/?spref=fb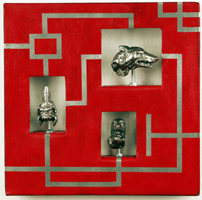 Simon Cooper
Type: Sculpture

Cooper creates hybrid creatures by experimentally merging human and animal body parts. These small scale creatures are cast in pewter. They are mounted on square boards and connected by electrical circuits drawn onto the boards. "If things were different, things would not be the way things are." Revealing the over simplification of a complex logic, Cooper incites the viewer to think about themselves and their relationship to the living creatures around them from a new perspective.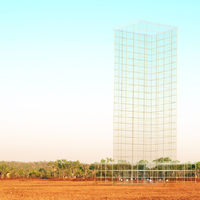 Simon Pericich
Type: documentary style photography, survey

After the discovery of a large strange fenced off tower in the central desert, Pericich uses images to survey public opinions for an investigation of the ownership and function of the anomalie - what is it? Have you seen it and why is it there?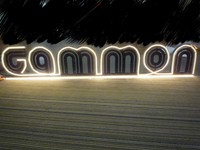 Siying Zhou
Type: Sculpture

Adopting the slang word that is widely used in the Northern Territory: "Gammon" - means being silly, untruthful and informal, Zhou creates an outdoor sign installed on the top of the van. In the way of being in favour of the local culture, Zhou intends to draw attention to localism that is embedded in the societies of the Territory. The sign delivers a dazzling personal comment towards the lack of formality in Darwin culture.

Talitha Kennedy
Type: Sculpture

Swelter Shelter is creates an extended space for Art on Wheels where a large cowhide of tanned black leather forms a tent like enclosure at the rear of the van. The leather has been cut to suggest the forms of shadow and light that tree canopies cast on the ground, like a flayed skin of the visible. This dark visceral canopy shields our own skin from the sweltering sun while drawing attention to the destruction that other life forms suffer for our comfort.

Talitha Kennedy has lived in Darwin since 2005 where the tropics have an inescapable influence on her art practice. She recently completed Masters by Research in Visual Arts at Charles Darwin
University. As NT recipient of the 2011 Qantas Foundation Encouragement of Contemporary Art Award Talitha travelled to Germany to assist Fiona Hall at Documenta 13 and undertook an artist residency in New York.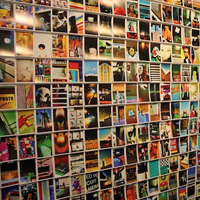 Tom Halliday
Type: Digital Photograph

Site-specific images created using digital technology and traditional contemporary visual arts practices, this work explores the creative obstacles and opportunities of mobile technology through representation of landscapes.
Blocking
Branching
Intelligent Design
Mysterious Fenced Off Area Discovered in the Middle Of Australia
See it loud
Swelter Shelter
Suburban Fragments
Press
links